Innovation is a new way of
life in Helsingborg, Sweden
From 30 May to 3 July 2022, Helsingborg will play host to the world at H22 City Expo – an international event exploring innovation and sustainability in smart cities. One thing's for sure, there's something for everyone! So mark the date in your calendar and let's explore the smart city of tomorrow together.
See and experience
H22 City Expo will showcase exciting innovations for the smart, sustainable cities of the future. These are developed through dynamic collaboration in the years running up to 2022 and will be put on display for a global audience. So come and explore solutions that put people and the planet first. The expo will be a platform for revealing cutting-edge innovations for the very first time, so just imagine what's waiting in store for you!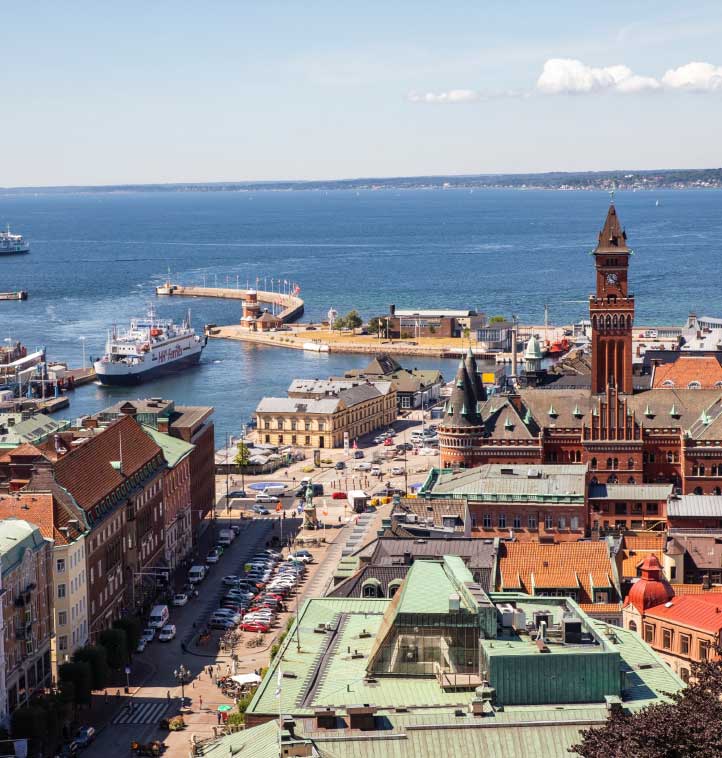 H22 is shining a light on all of Helsingborg. It's about the people who live and work here, life in every corner of the city.
DROP BY AND APPRECIATE
During H22 City Expo, visitors will be able to go on various site visits to see how local places and operations are being run and developed to take on future challenges. The hosts will open their doors to H22, so why not take a peek at how new ways of working can ensure a brighter tomorrow.
LISTEN, SHARE, AND LEARN
H22 City Expo is an arena for cities, businesses, academia, associations, and residents to meet and learn from each other. A core part of the expo's content is an extensive programme of industry conferences and congresses taking place in Helsingborg or arranged by H22's partners. Come join your industry peers in Helsingborg and expand your smart international network. There's strength in numbers when finding solutions for the challenges we all face.
CREATE AND EXPERIMENT
A test bed is a physical or virtual environment for testing new products, services, and processes. With H22, Helsingborg has become a city-wide test bed for exciting collaborations, where innovative solutions in welfare and urban development are explored. During H22 City Expo, both new and existing test beds across the city will demonstrate tests they've been working on, or perform the tests right there with visitors and participants. It's not every day you can be part of an experiment at the forefront of smart city solutions!
BE ENTERTAINED AND SURPRISED
Captivating events all around the city will frame H22 City Expo over the course of 35 wonderful days. These will entertain, surprise, and elevate other content during the expo. The city space will be pulsated with activity, where curious and amazing spectacles will make H22 City Expo an event that will go down in history.