Drottninghög – a neighbourhood built to last
Drottninghög, just 3 km from the City Centre, has attracted global attention through the innovative and dialogue-based approach that has breathed new life into the district. The city and the residents are working together to shape their neighbourhood and create a sustainable future built on shared dreams.
Drottninghög will be a main staging area during H22 City Expo, with the theme Open up for Co-creation! Explore new ways of living together, exciting housing models that connect people, and places to play that came straight from a child's imagination. Discover gardening projects that get people talking and a marketplace with a twist. Drottninghög will open up for new encounters and bring you closer to the people behind the innovations, the exciting cuisine, and the vibrant music.
Open, connect, densify
Drottninghög was the first area built in Helsingborg as part of the Million Programme. This was an ambitious public housing project between 1965 and 1974 with the aim of building a million affordable homes in response to a housing shortage.
As a type of neighbourhood that became known for its monotonous design and lack of diversity, the district is now being developed and transformed through the DrottningH project – an initiative that will run for at least twenty years with a focus on environmental, social, and economic sustainability.
Together with property owner Helsingborgshem, four goals have been set. The aim is to create an open process and collaboration, make connections and break down barriers, densify the district and create variation, and focus efforts on children and young people.
Drottninghög shall be an
integrated part of the
city – physically, mentally,
and socially.
Facts and figures

1114 apartments
3100 residents (April 2020)
77% residents with a non-Swedish background
34% in age group 10-19
18% aged 20-64 have post-secondary education
The DrottningH project began in 2012
Continuous dialogue with engaged and proud residents has been the foundation for successfully developing an area that has struggled with issues such as a lack of integration and unsafe outdoor spaces.
From the beginning, in-depth discussion and interviews involving 300 residents steered the renovation work to transform the area. What increase in rent is reasonable for renovations? Given your finances, what other changes would you like? Following the new dialogue approach, most residents embraced the plan – phasing up rent over five years to cover renovations – and felt more invested in their neighbourhood as a whole. This laid the groundwork for transforming Drottninghög into a thriving and vibrant area, and a similar, expanded dialogue process is set for 2020.
Consultation with residents is part of all major plans for Drottninghög. The project Dialog 3.0 has engaged residents in the city's work for the past three years – involving young people in the urban planning, gathering and visualising dreams for Drottninghög, communicating different visions, and building knowledge.
IT'S GOOD TO TALK – HIGHLIGHTS
Drottabladet is an online forum for those living and working in Drottninghög and surrounding areas. Anyone can be an editor and it serves as an online magazine to share neighbourhood news, events and advice.
The Princesses and Dragons playground was designed by local children along with DrottningH and the local library IdeA, attracting families from all over Helsingborg.
IdeA is a library with a difference. They have an independent budget and local residents are employed to be the glue between different groups and organisations in Drottninghög. It's a meeting place for knowledge exchange and dialogue, a cultural hub for exploring the values for building tomorrow's Drottninghög.
Rekrytera, a three-year recruitment project engaging residents from Drottninghög and surrounding areas, was so successful it has now become a permanent operation. Of the 340 participants in just the first three years, 280 found a job or enrolled in studies.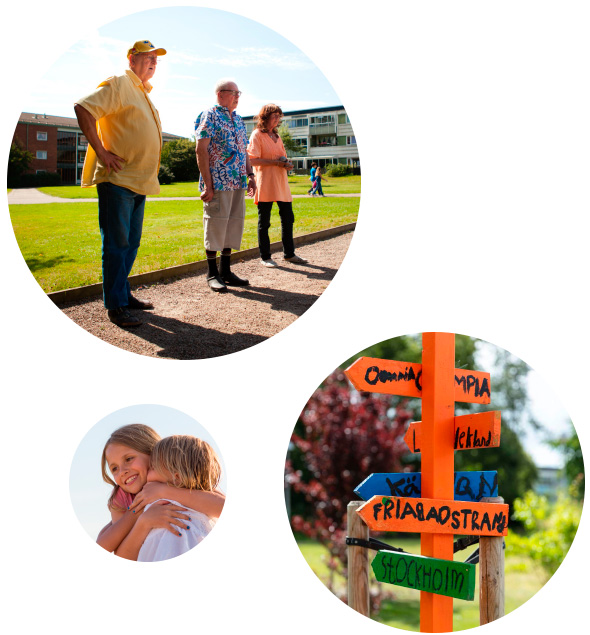 "Without the help of those living in Drottninghög, the DrottningH project would never have gotten as far as it has, and we would not have achieved the amazing things we have. We're working together to ensure that the people of Drottninghög have at the very least the same living conditions and opportunities as the rest of Helsingborg."
Arne Gunnarsson, Communications Officer
for the DrottningH project
The green and the social
Building a neighbourhood needs to be about the people, about improving quality of life. As city populations grow, public spaces need to provide a platform for connecting with others and with nature. Well-planned green areas are key, and a balance between the built and natural environment is the path to sustainable city life.
"The greenhouse and the plots are the best thing that's happened in Drottninghög, and I've lived here from the start. In some way, I've taken root in the neighbourhood. There's a lot of love and concern for each other here, and I don't think we should let go of what we have or be afraid to go out. I even have the silly idea that I'm needed here!"
Berit Karlsson, a resident of Drottninghög for 50 years
SHARED SPACES – HIGHLIGHTS
An English greenhouse has been built, surrounded by communal plots, and has become a popular meeting place for many of Drottninghög's residents. It's run by locals and supported by the City of Helsingborg, and is a place where flowers, vegetables, and social connections have space to grow.
In the park Drottninghögsparken you can find an outdoor gym and beach volleyball, and right next to it is the new Körsbärslunden. There is new lighting in place as part of the overall goal of making Drottninghög a safe and welcoming neighbourhood.
A beautiful cherry grove was planted in the spring of 2018 with almost one hundred new trees, both domestic and exotic varieties, symbolising the diversity found – and wished for – in Drottninghög.
The annual S'mile Race sees school children from Drottninghög and surrounding areas run through these neighbourhoods, strengthening community ties and empowering the next generation.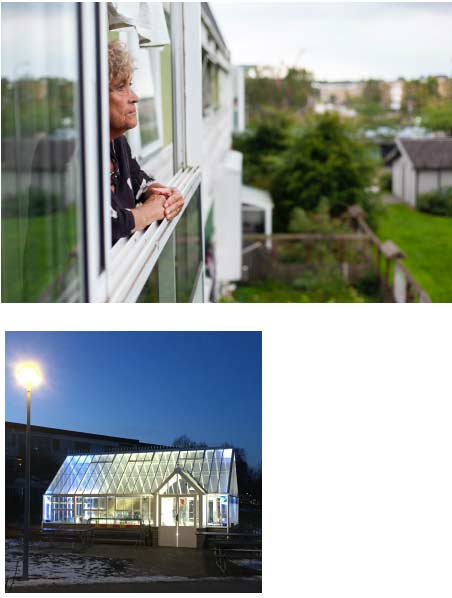 Innovative urban development is about the built environment responding to the needs of society. The development plans for Drottninghög are extensive and respond to the various needs of residents and those working there, but they also aim to elevate the attractiveness of the area for future residents and create a vibrant and inviting district for people coming from nearby areas and the rest of the city.
THE DISTRICT OF THE FUTURE – HIGHLIGHTS
Mobility solutions: The Helsingborg Express makes travelling between Drottninghög and other parts of Helsingborg faster, greener, and more comfortable. The first charging stations for electric bikes are being installed. The Urban Living Labs project is working alongside the residents to find out what really drives their transport choices, with the hope of designing new services together.
Town square of tomorrow: Using digital AR tools, residents and visitors will join in co-creating a town centre of the future, designed to be a safe and inclusive meeting place.
New and modified homes: To accommodate more than twice the current population, 100 apartments have been renovated and two new apartment blocks built in the form of Grönkulla gård. Helsingborgshem reuses material from the old demolished buildings on the same site. The goal is to densify the residential space, create variation, and ensure that nature is always an element.
New forms of tenure: Housing cooperatives will be introduced so that flexible options encourage growth. Riksbyggen – the Cooperative Building Organization of the Swedish Trade Unions – is testing out a system of hire purchase with a few apartments, where the tenant rents for five years and then has the option to buy or continue renting.
Smart housing concepts: will also be explored, such as that found in the SällBo project, a co-living arrangement where different generations and cultures actively share a building and enjoy flexible common areas together.
Learning environments: The first preschool of many has been built within the DrottningH project. The idea is for preschool yards to also be accessible space for residents during evenings and weekends. Innovative outdoor environments for schools are being explored together with students so that traditional ideas can be challenged.
"The unique aspect of working with Drottninghög can be summed up with the word 'together'; together with those living in the area today and together with the municipality and new actors active in the district. We want to show the Drottninghög of the future – a sustainable, urban, and multifaceted district in the heart of Helsingborg!"
Mikaela Åberg, Project Manager, Helsingborgshem
The transformation of Drottninghög is as much about the journey as the destination. It's a living project, dedicated to exploring, testing, and learning together. It's an investment in the city as well as an investment in people and the potential for innovation that comes from collaboration.
Drottninghög's journey is a focal point for H22 as it highlights how smart, sustainable solutions and collaborative processes can transform city life for the better. As projects evolve and new projects are initiated between now and DrottningH's conclusion in 2035, H22 will be shining a light on the progress.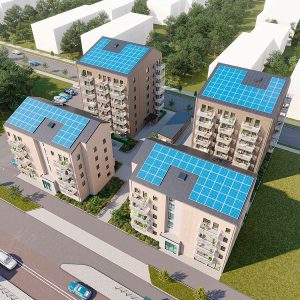 PROJECTS
DROTTNINGHÖG
TESTBEDS
DROTTNINGHÖG