Explore smart living
– with a view!
Oceanhamnen is an entirely new city district with the ambition of becoming an urban archipelago, where quality of life and sustainability go hand in hand. Here you can enjoy the quayside promenade, experience a different kind of swimming pool, or visit the new park in the old dry dock.
But what's really exciting is the innovations beneath the surface, where circular thinking has been taken one step further.
Smart solutions in every corner
The goal from the start with developing Oceanhamnen has been sustainable urban development – economic, environmental, and social. Through the city's innovation initiative, the limitations on what can be achieved have been expanded and new possibilities have been created. Already now, work is being done with innovative circular systems and a hub for material recycling, and partnerships for testing and developing with global actors are being forged. But these are just a few of the reasons why Oceanhamnen will be one of three main areas during H22 City Expo.
In Oceanhamnen, the residents are environmental heroes – just by going about their day
Contributing to a greener city has never been easier. All you have to do as a new resident of Oceanhamnen is sit on your balcony and enjoy the fantastic sea view. In other words, you can just go about your day as normal. Every home is being equipped with a unique waste separation system with three pipes; one pipe for ground food waste, one pipe for baths, dishwashing, and washing machines, and one vacuum pipe for toilets. Yes, a vacuum toilet. Not as scary as it sounds. It's actually just like a regular toilet. With this system, the separated sewage can be recycled and used, for example, to fuel the city's buses.
It feels like the Helsingborg
of the future is right here!
Pernilla Möller, resident of Oceanhamnen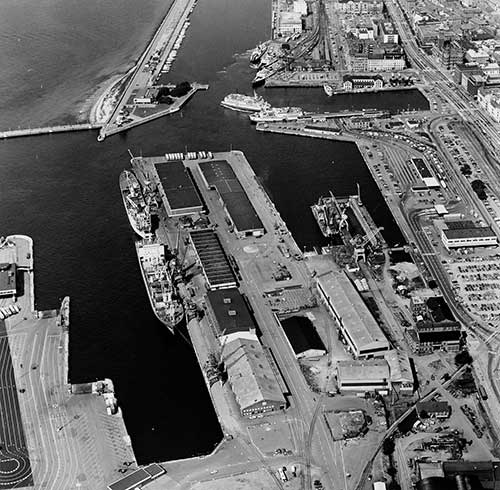 HISTORY
In the past, the Oslo Pier in Oceanhamnen was an expansive green area, and when there were no guards about, it was a popular destination for dockworkers eager for a swim.
Hear residents of Oceanhamnen talk about their new home.
Each pipe has a part to play
The waste disposal unit in the kitchen sink directs food waste straight to the treatment plant – purer waste and no transport involved. The washing water pipe recycles residual heat and the vacuum pipe contributes to more concentrated toilet waste, less emissions in the treatment, and increased circulation of nutrients back to the soil.
"What would happen if we took a new approach and designed a sewer system built to recycle resources? Well, we'd be doing exactly what we already know to do with waste, separating sewage at the source!"
Hamse Kjerstadius,
Development Engineer, Reco Lab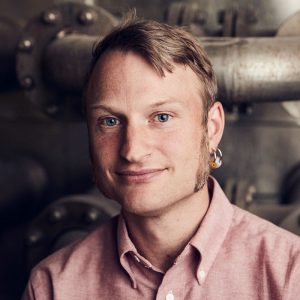 A testing ground for innovations
Oceanhamnen has been transformed into a test bed for exploring smart solutions in collaboration with different actors. Read more about test beds in the city
A spacious district for a growing city
In its initial development phase at the Ocean Pier, Oceanhamnen will accommodate four residential blocks with approximately 350 homes by 2022. Three office buildings with exciting architecture at the furthest point on the pier will provide 32,000 square metres of space for business premises and services just by the water. The area will also have a central square and a canal through the pier for small boats to pass.
The subsequent development phases involve plans for approximately 700 more homes, a seawater swimming pool, and a parking structure. There are plans to build an entirely new island connecting the Ocean Pier to the old Oslo Pier. Until then, the area of water between the two piers will remain open. The entire district of Oceanhamnen will be fully developed by 2030. Read more about the plans for Oceanhamnen