Show trees some love!
The City of Helsingborg was one of the first to join the UN's Trees in Cities Challenge campaign. Before the end of 2020, the city has pledged to plant no less than 8,000 new trees. Can the residents, businesses, and organisations of Helsingborg rise to the challenge and match the city's target? Together we're making Helsingborg one of the shining stars of the Trees in Cities Challenge! When you plant a tree you can report it below – quick and easy. Use the hashtags #treesincitieschallenge and #H22themakingofasmartercity in your own channels so that Helsingborg can serve as a role model for this global initiative!
Trees are a fantastic and simple way for cities to tackle the effects of climate change. They absorb carbon dioxide and clean the air, but they also increase biodiversity. And of course they add a lot of beauty to the city landscape! The Trees in Cities Challenge campaign, which was conceived by the UN, was launched at the UN Climate Action Summit in New York in the autumn of 2019. Here you can listen to what Greta Thunberg has to say about trees:
Here you can check out what Greta Thunberg has to say about trees.
Cities account for about 75 per cent of the world's carbon dioxide emissions. This is why the UN wants to see active measures taken at the city level. Although many scientists consider tree planting to be both an inexpensive and effective way to respond to the threat of climate change, a very small portion of environmental investments goes to trees. Along with planting trees, we naturally need to do all we can to reduce the use of fossil fuels and stop the deforestation of large woodland areas. But tree planting is also something we can start doing here and now, today. Join the challenge and make a difference!
Read more: https://treesincities.unece.org/
Mayor of Helsingborg Peter Danielsson plants the first of many trees to fulfil the city's pledge.
#treesincitieschallenge
CHALLENGE THE CITY
BY REPORTING
YOUR PLANTED
TREES HERE!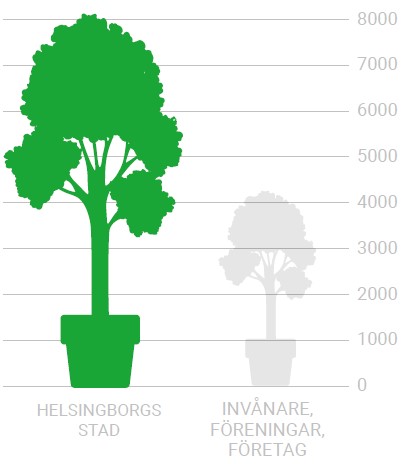 Together we're making
Helsingborg a
green role model.
WANT TO
PLANT A TREE?
IT'S AS EASY AS THIS!
Fredrik Bengtsson, ecologist for the City of Helsingborg,
has three easy pointers for planting environmentally friendly trees:
1
Plant Swedish deciduous trees where possible, as these are valuable for biodiversity. Trees and shrubs that bear fruit are also important, such as hazel shrubs, rowan trees, and cherry trees. Fruit trees are generally both beneficial and add variety. Avoid planting invasive species such as sycamore maple, the tree of heaven (Ailanthus), Robinia, or savin juniper.
2
Think about the distance to buildings and other trees. It's important that there is plenty of space for crown development.
3
Dig a good-sized hole, at least twice the width and length of the root ball. Use good planting soil that is naturally fertilised. Keep one metre around the tree free of grass so that it doesn't have to compete for nutrition and water. Ensure access to water if needed. Some support can be good to have in the beginning. Use jute cloth or a used bicycle tube that's flexible.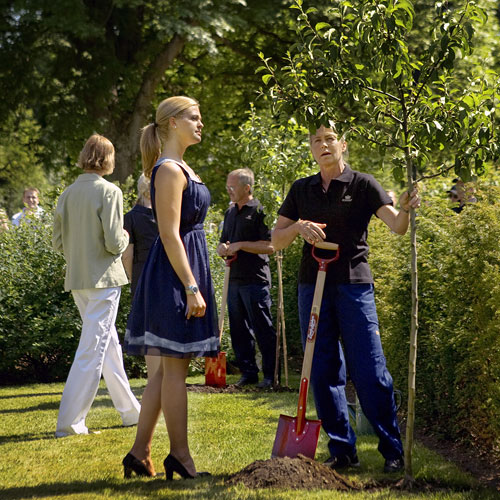 Subscribe to
our newsletter
Want to know more about H22, how the work is going,
and how you can be part of our journey?
Then sign up for our newsletter below