Giving ideas wings!
In Helsingborg, we want children to feel that their voices are heard as early as possible. With H22 and the Vision Fund, we want to speed up the creation of an innovation culture that will be a natural part of life for children growing up in Helsingborg. The aim is for the children to have faith in the future and grow up with the knowledge that they can influence the city and their own future.
During 2021, the #kidsedition initiative will take place. This will be run by H22 and the Vision Fund in the City of Helsingborg. #kidsedition is offering associations and organisations SEK 5,000 for materials so that children's groups aged 7-15 can come up with their vision of what Helsingborg might look like in 2035. The registration period for 2021 has expired.
This vision is presented in the form of a prototype.
A prototype does not need to work or be to scale. It is mostly a way of visualising ideas in a fun way. It could be a robot, pine cones with glitter, an audio or video recording, or a bigger built installation. The children's imaginations, ideas, and dreams are free to fly!
"With the Vision Fund #kidsedition, we're giving children a voice in the design of their city. They have an opportunity to be seen in a new context that inspires curiosity and provides a new experience. "
CONTACT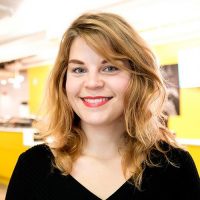 What is the Vision Fund?
The Vision Fund is Helsingborg's unique pot of money and free coaching programme for those with brave new ideas and dreams for what Helsingborg could be, for example, more fun, smarter, or more inclusive. Each year, SEK 1 million is awarded to different innovative projects. You can apply as an individual (18+), as a group, an association, or a business. Each project can be awarded a maximum of SEK 100,000. The project ideas are evaluated on the basis of the potential benefits to society and how they can help drive development in the city and achieve the goals of the vision Helsingborg 2035. LEARN MORE